Best of the Best Aquarium Decorations in 2020, Furniture for your Fish!



This article is written after independent researches conducted by our editors and co-writers for your satisfaction!
You finally got yourself your own aquarium, you got your pet fish but oh, it seems a little bit too vacant.
What should I do?
That's it, you should buy furniture for your beloved fish. Well, whatever aquarium decorations you are looking for, the most crucial thing to look for is to carefully pick quality products that isn't hazardous.
How to Pick the best Aquarium Decor?
There are a few major points that you need to consider before :
Natural vs. Unnatural

Freshwater vs. Saltwater Tanks

Color Scheme

; Bright vs. Dark

Non-Toxic vs. Toxic Material

Sharp edges
My Choices for YOU

Key Features:
BIG
Suitable playground for fish
Medieval vibes
Key Features:
Reminscing our chilhood cartoon
Bright Colour
Made with non-toxic material
Key Features:
Key Features:
Small & Cute
Budget-Friendly
Colorful
Key Features:
Natural

Eco-friendly

Green
Key Features:
Beautiful colour, match with water

Convenience

Non-Toxic

Safe & Durable silicon material

Easy installation
Cost: $7
Key Features:
Plastic and Ceramic
Provides hiding place for fish
Cost: $12
Key Features:
Come in a variety of sizes
Ceramic bases
Made with non-metallic materials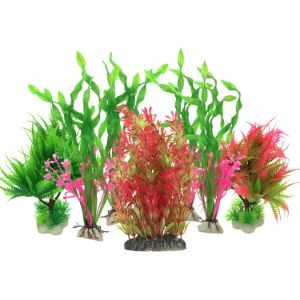 Cost: $15
Key Features:
Heavy pedestal at bottom
Made with non-toxic materials
Provides fish with shelter
Key Features:
Quartz ceramic base
Life-like
Adds natural scenery
Cost: $11
Key Features:
Completely unique
Safe for aquarium
Small size
Key Features:
Made of safe, non-toxic resin
Three suction cups on air pump disk
With an air pump, it will bubble
Cost: $10
Key Features:
Non-toxic resin
Areas for fish to swim in and out of
Can be used in any kind of water
Key Features:
Weighted bottom
Suitable for any tanks
Color won't fade
Key Features:
Made with eco-friendly silicone
Weighted bottom
For both freshwater and marine aquariums
Best Plant-type Decorations!
So, out of all these decorations which are the best decorations typed plants for your aquarium? Well all-in-all, my choices is this one
It has beautiful color, the color of the water.It would be so natural sitting on your aquarium. Also, to install it wouldn't be hard.It is made with solid silicon.

It also match real underwater plant = coral. It would make your aquarium seems like an ocean! So, if you are looking for your favorite plants to be under your aquarium, check this out!
Best for Fish Bowl!
What if you have a small tank? Don't you want to know which are the best decoration which will match your bowl? Then, here you go, our top choice decoration for fish bowl!
I believe this is the best decoration for you with a small tank/fish bowl. Why? Because this is a very small decoration, however, also very versatile! It contains several holes in it for your fish to play with. Also it is the home of our favorite character with spores in it for your kids to enjoy with.
The color of this decoration will also lighten up your tank, so don't miss a chance!
Best for Larger Tank!
Sorry, did I miss you? Did you have a large tank? I'm no Mr. Hackerman, but if you do not have a small tank, rather, A BIG ONE. I will suggest you this decoration
This is the best you can have if you have a large tank.
The medieval vibes, the castly-castle, it is just like in a dream, in your dream, in my dream, a world of dream where dragons exist and I've been talking too much, you look it for yourself.
Best for Budget!
Finally, for my budgety-friends haha, what are you looking for mate? A more less-pricey decorations? For your tiny aquarium? Well...
For $6 you get this much! Fulfills you, eh?

Can you put plastic toys or rocks in a fish tank? 
Well, for YOU a more budget-considerated people, are you thinking of a more budget ideas? Like putting old toys or some rocks you picked up on the street?
Well, plastic toys in water is most generally safe. That is, if they are made with non-toxic materials. A good thing to consider your plastic is graded as food-safe plastic, then it is safe to put in.
Another thing to look for in plastic for your aquarium is if it is a sealed plastic decoration. Unsealed decorations can leach chemicals into the water that can be potentially harmful to your fish.
Regarding rocks, you need to consider the type of water that is used in your fish tank. If you have a freshwater aquarium, it is best to use rocks that are not high in calcium. If you have a saltwater aquarium, use natural coral as seen on sea! However, be careful if they don't match, (I don't want to bother you with the science, but you know something about acidity right?) the rocks will dissolve and harm your fish.
Better not risk you chance and get yourself your own Aquarium Decorations! If you ask my opinion. 
Who should buy an Aquarium Decor?
Well, to conclude this article, I need to tell you something that I should have told you right from the start. Who are righteous to have an aquarium decor?
If you own an aquarium in your shack and want it to be a bit more lively, you can purchase decorations for your aquarium. One of the most common hobbies is to turn your aquarium into a beautiful underwater landscape. Having that kind of hobby could boost your spatial intelligence!
OR perhaps you have a friend who is also into fish tanks and has one in their home. A decoration for their fish tank is just the perfect gift. Just be sure about their fish tank's size, though.
AND maybe your children just acquired their first pet fish and they also need a nice new home for their new pet to live in. Well, the aquarium decoration is the right item for you!
Summary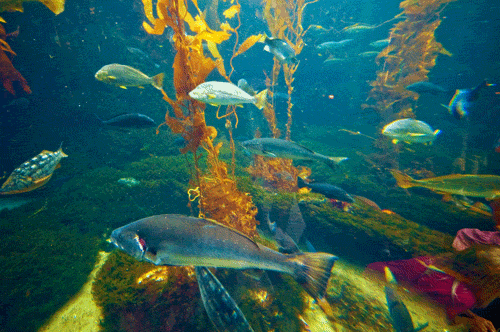 (giphy)
Finally, in order to find for the best Aquarium Decorations, you need to consider a lot of aspects for your aquarium. Whether it is natural or not, if it really match with your water type. Is it toxic?
Aaaaaand,,,, one of the main things you probably miss, but can give a little more consideration is its edges. YES, sharp edges may look cool, but if you look at the aquarium decoration and it has sharp edges, you better stop looking at it, and look for something else.
Sharp edges could accidentally harm your fish!
Last of all the last, be smart, and be considerate, when you are looking for your new furniture for your fish :)